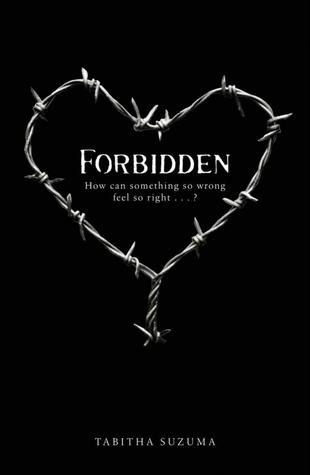 It's very hard to write my thoughts on a book that plot wise is incredibly wrong but as written material is so wonderfully told.
Told from a dual perspective, Forbidden takes us into the evolving relationship of Lochan and Maya, brother and sister who fall in love. Teenagers themselves (17 and 16 respectively), the pair have been thrust in to a position of responsibility and authority from a young age, practically raising their three younger siblings since their dad left a good five years ago. Their mum is still on the scene, but barely so, flitting in and out of the home only to doll herself up for nights out with her boyfriend and to begrudgingly provide money to keep a roof over the heads of her children, pay the bills and stock the house of food. Lochan and Maya are essentially surrogate parents to their three siblings; it is this position that builds the feelings between them almost, they are equals, they parent the children - they do not feel like brother and sister.
I first picked up Forbidden because I was intrigued how the subject of incest would be written in the context of the story - consensual incest - but when I looked in to the book a little more I was even more curious as I had heard from many that the author's writing almost makes you forget that Lochan and Maya are brother and sister, and that the feelings they feel for each other are forbidden.
Honestly, those who said that were indeed correct. As the love story between the two begins, you feel a little awkward, reading of these intimate moments and thoughts shared by two whose relationship would be considered by general society as taboo, but the more you read, the more you fall in to their story and their feelings and everything seems right - natural even. But only because you can see how they are products of their environment and life experiences. Being told in a first person narrative only lends to the story as any other narrative wouldn't work, it wouldn't contain the same impact on a reader nor portray the feelings of both involved so effectively.
One of the reasons the story works so well is the detail and depth of all that is going on, whether that be the chaotic home life, the portrayal of a dysfunctional family, teenage life and how all is not what it seems, social anxiety and of course the love shared between Lochan and Maya. You feel for these two teenagers and in many ways pity them too. Although the author's writing felt a little long winded at times, with some passages that could have easily been taken away, her style of writing is one I admire and would like to read more of. Forbidden is a story that is horribly beautiful with tragic circumstances and cannot have been an easy one to construct and write, yet the author has done this so well. Seriously, so well!
Naturally the subject of incest isn't one we approach with ease, in fact many would be put off by this book because of the subject matter, but I think whatever your thoughts or beliefs may be Forbidden is well worth reading. The author isn't trying to sell us on incest being okay, but the way in which she explores the love of these two people who should not love one another like they do does make you think a little more and question certain things... I don't know if that was the intention, but it is the outcome. I would like to clarify, that is not me saying I agree with incest.
'You can close your eyes to the things you do not want to see, but you cannot close your heart to the things you do not want to feel.' - Anon (Taken from the opening page of the book).
Before I wrap up my review I also think it is worth noting the audience of this book. I had gone in to Forbidden thinking it to be a YA book, in fact, it is most highly ranked as a YA book on Goodreads, however having now read the book I don't think I would entirely agree with that. YA encompasses a lot when it comes to subject matter, but also when it comes to age range too, and Forbidden is most definitely not suitable for all those that fall in to that category. This is a book for older/mature teens and adults - the back of the book itself states 'Not suitable for younger readers' and with scenes of a sexual and violent nature as well as a darker topic being the focus of the plot, I would definitely agree with that.
If you're looking for a book darker in nature yet realistic in telling, as well as something that will pull feelings from you that you didn't know your reading experience would garner, then Forbidden comes highly recommended from me.